Sponsors
Page

Sponsor
65

All-Star Chevrolet65

29

Allstate – Stevenson Insurance Group

24

BancorpSouth

19

Belhaven University

2

BMH-DeSoto

6

Center for Skills & Knowledge

4

Citizens National Bank

24

Compass Self Storage / U-Haul

22

Cornerstone Women's Center

65

Cross Creek Christian Academy

13

Crye-Leike Realtors

23

DeSoto Center-Northwest/Ole Miss

35

Desoto Imaging Dianostics

32

Dodge's Store

IBC

Dominos Pizza

14

Dream Home Construction

66

Ed Sollinger, CPA

17

Eldridge Services

66

Evans D.D.S., P.A.

36

Family Medical Clinic

12

First Security Bank

71

First Tennessee

46

Hope Chapel

70

Jackson Family Dentistry

17

Labelle Haven Baptist Church

1

Landers Auto Group

16

Magnolia Inn & Suites

66

Massage & Raindrop Therapy

BC

Methodist Healthcare

6

Methodist Minor Med

71

New Prospect Baptist Church

37

Nortcentral EPA

43,49

Northpoint Christian High School

17

Old Style BBQ

6

Old Towne Gift Shop

75

Olive Branch Country Club

34

Olive Branch Family YMCA

51

Olive Branch Old Towne

62

Olive Grove

18

OrthoOne

65

Our Kids Matter of Mississippi

43

Parkwood Behavioral

6

Peddler Bike Shop

9

Prologistix – Select Staffing

32

SecurTrust

IBC

Sonic Drive-In Restaruant

24

Southern Bancorp

65

Stars in Motion

24

State Farm – Montgomery

26

Super 8 Motel

37

Thames Family Dentistry

66

Tim Hogan Carpet & Floors

68

Utley Properties

IFC

Waddell & Reed Financial

70

Waste Connections

62

Welcome on Wheels

10

Whispering Woods
---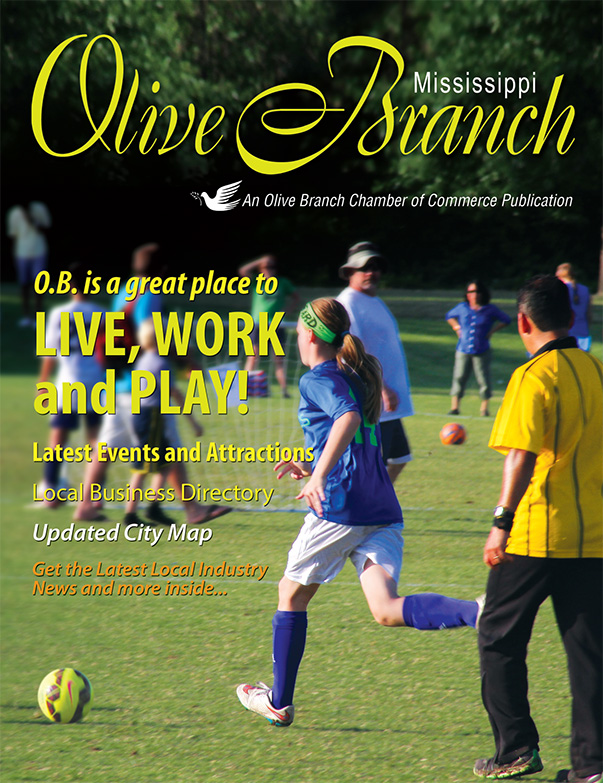 Special Thanks
A special thank you is in order for all who helped in the production of this magazine. We would like to breifly mention a few people who were involved.
Editorial Contributors
Vickie DuPree
Sheryl Burchett
Janice Lewis
Donnie Tucker
Copy Editors
Janice Lewis
Vickie DuPree
Sheryl Burchett
Donnie Tucker
Photography
OB Chamber
Joe Loftus
Brian & Leigh Harris
Ralynda Kutella
Ted Crowdis
Amanda Osborne
Sheryl Burchett
Map
Desoto County GIS
Brian Harris, Novagiant Media
If we have forgotten anyone, know that we truly appreciate all of your help in making this magazine happen.