Sponsors
Page

Sponsor
57

A & B Distributing

16

A-1 Fire Protection

57

All-Star Chevrolet

66

Allstate – Stevenson Ins Group

79

American National Earhart Agency

2

Baptist Hospital BMH-Desoto

39

BB's Euromotors

34

Campbell Clinic Orthopedics

56

Center Hill Animal Clinic

56

Charleston Manufacturing

39

Citizens National Bank

69

Conxion Gym

9

Crye-Leike, Realtors

29

Delta Gastroenterology & Endoscopy

24

Delta Medical

34

Desoto Imaging Specialists

73

DeWeese Engineering Co.

4

Dollar Tree / Family Dollar

IBC

Dominos Pizza

50

Eldridge Services Air & Heating

1

Family Medical Clinic

16

First Horizon

51

G & S Electrical Services

43

Greater Faith Outreach Ministry

47

Greg Evans Family Dentistry

46

Henry Chiropractic

46

Holland Insurance

42

Hope Chapel

46

Labelle Haven Baptist Church

68

Maples Memorial United Methodist Church

67

Massage & Raindrop Therapy

71

McCulley Allergy Sinus & Asthma

54

Melody Time Music Store

38

Methodist Minor Medical

BC

Methodist Olive Branch Hospital

70

Mid-South Ice House

8

National Filter Media

50

Neel-Schaffer Inc Engineering

IFC

NorthCentral Electric Cooperative

21

Northpoint Christian School

17

Northwest Community College

76

Old Style Bar-B-Que

66

Olive Branch Arts Council

70

Olive Branch Florist

25

Ortho One Sports Medicine

35

Parkwood Behavioral Health

17

Pediatric Dental Group

54

ProStone Kitchen & Bath

29

Red Med Urgent Clinic

12

Renfro Heating Air & Plumbing

47

SecurTrust Federal Credit Union

50

Smoothie King

IBC

Sonic

35

Thames Family Dentistry

35

The Arc Northwest MS

51

Waste Connections

8

Welcome On Wheels

82

Whispering Woods Hotel & Conference Center

21

Williams & Hamman Orthodontics

47

Xlnt Window Tint

77

Your CBD Store
---
Special Thanks
A special thank you is in order for all who helped in the production of this magazine. We would like to briefly mention a few people who were involved.
Editorial Contributors
Vickie DuPree
Sheryl Burchett
Copy Editors
Vickie DuPree
Sheryl Burchett
Janice Lewis
Ally Evans
Photography
Special thank you to: Jay Nichols, OB Chamber,
Brian Harris, RaLynda Lee, Sheryl Burchett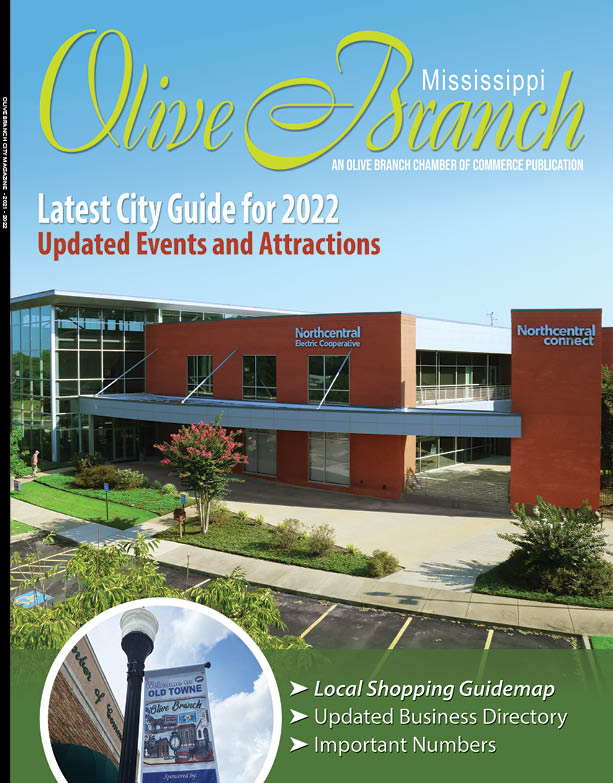 If we have forgotten anyone, know that we truly appreciate all of your help in making this magazine happen.